Skyway Cat Club Promotes
Spay and Neuter
Prevention of cruelty and mistreatment of animals
Skyway supports local spay and neuter clinics at our shows.
SPOT USA

Feline Education booths include veterinarians and FIP booths.

Skyway Cat Club
of
Tampa Bay
Skyway Supports Feline Rescue
Helping to find homes for rescues
Suncoast Animal League
Animal Services of Pinellas
Friends of Strays
Suncoast SPCA
Tampa Bay Cat Alliance,
Florida Bengal Cat Rescue
Placing Misplaced Pets
H.A.LO. The Animal Ambulance
Second Chance for Strays
Come to the show to adopt a kitty for you!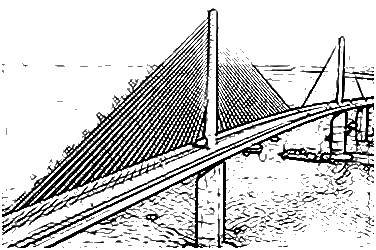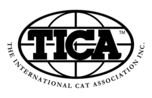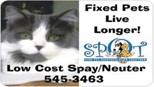 Our Mission

To assist in prevention of cruelty and mistreatment of animals.
To find homes for the homeless and less fortunate cats.
To be charitable and reach out to the community to work together to achieve our goals.
To provide community service projects for various groups.
To educate our members and the general public to be caring, responsible owners and to work
together to promote the health and welfare of all domestic cats.
To continue our work for the benefit of all felines.
We look to the future to provide a comfortable, pleasant and healthy life for cats and cultivate
friendship among and promote the interest of the cat fanciers and make a pleasant experience for all.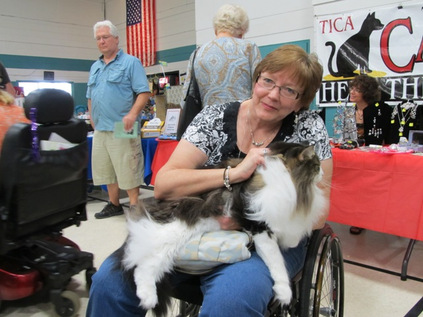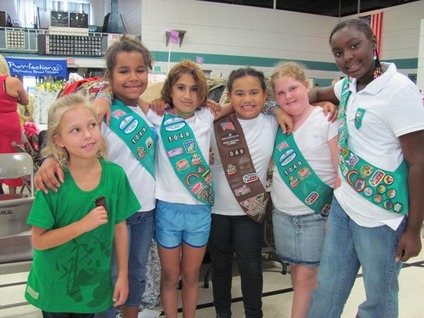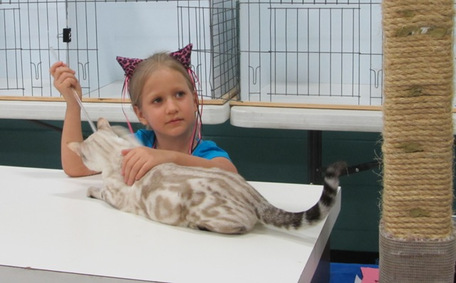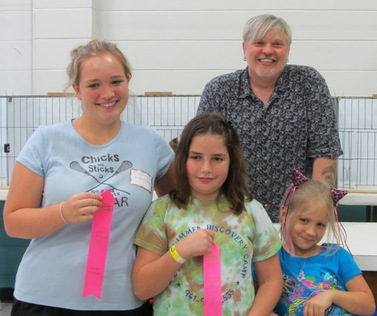 Harry Potter a Norweigian Forest Cat reaching out to a spectator at the September Skyway Show, what a cat!
Girl Scout Troop #1049
Our stewards working with Skyway Community Service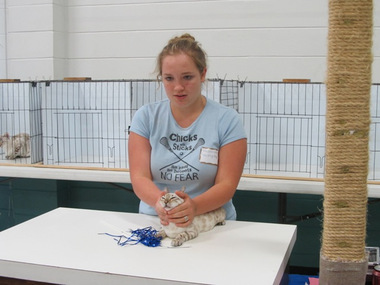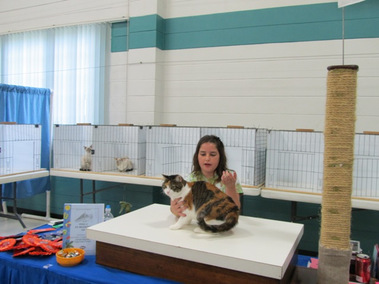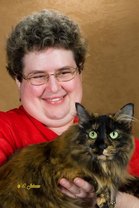 Elaine Zalewski
Furry Agape Pet Therapy
Grove City, Pennsylvania
with COCOA MARBLES OF MARBLEGLEN
Pet Therapy Seminar
will be presented
by Elaine Zalewski
To Be Announced
We will be collecting donated items for SPOT USA Spay and Neuter Clinic at the show. Please look for the basket or barrel in the foyer of our show hall.

Cat & Dog Crates

Baby Wipes

Office supplies

Printing paper

Cleaning supplies

Bleach

Paper Towels

Tall Kitchen Trash Bags

Send a Gift to SPOT USA